Contact details & directions
How to find our Garnhof farm in Flachau
Garnhof
Hermann & Martina Kirchner
Gemeindestrasse 8
A-5542 Flachau
Tel. +43 6457 2285 · Fax +43 6457 3118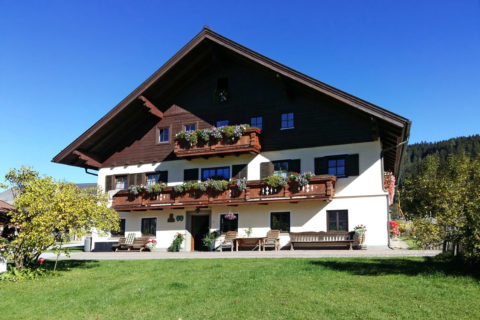 Arriving by car to Flachau, Austria
The red marker shows the location of our Farm in Flachau in the Province of Salzburg. The following GPS co-ordinates for your sat nav (UMT) will direct you to us: lat: 47.36647614, long: 13.3919692. We kindly ask you to check the current situation on the roads (Austrian Automobile Club) before setting off, and to please note that a valid motorway toll sticker is valid for travel on Austrian motorways.
Arriving by train or plane · Taxi & shuttle bus services
The nearest railway station in Radstadt is just 9 km. Express trains also stop here. We're happy to pick you up from the station on request.